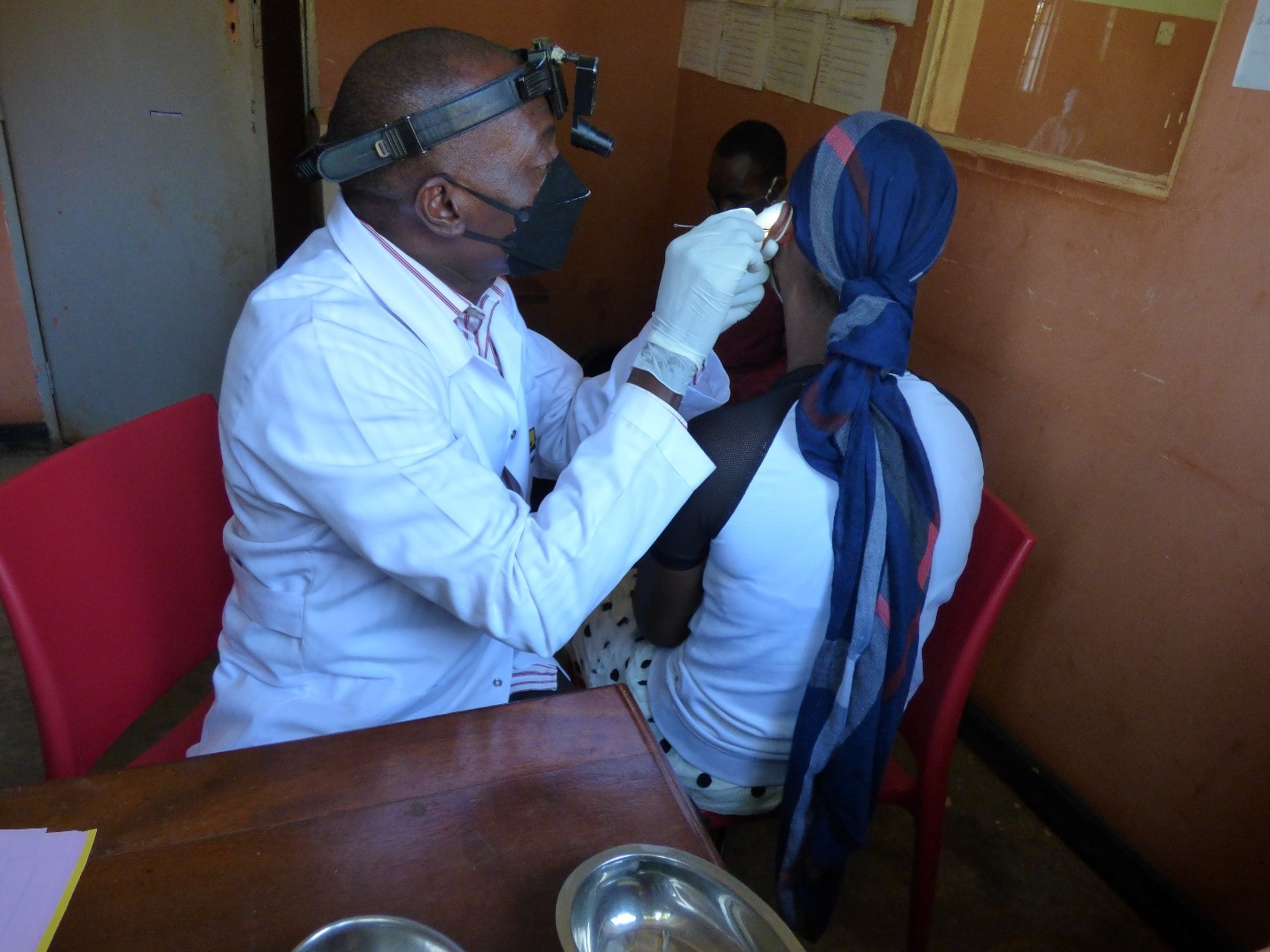 Hearing day marked with free ENT services, sensitisation
---
By Elizabeth Namara
Busoga Health Forum (BHF) participated in World Hearing Day 2022 activities through a series of radio talk shows, webinars, and Ear, Nose, and Throat (ENT) pro bono services.
March 3 is observed as World Hearing Day to raise awareness on preventing deafness and hearing loss.
Busoga Health Forum deemed it fit to carry out activities aimed at creating awareness and sensitizing the communities about the hearing impairment disability also known as the 'silent disability.
The talk shows were held at Busoga One FM and Smart FM, both prominent radio stations in the Busoga sub-region. Dr. Fred Bisso and Dr. Christine Adoch are both ENT specialists, the former a Senior Consultant at Mulago Hospital and the latter, a lecturer at Busitema University.
The provision of free ENT checkups and treatment at Mafubira Health Centre II and Kyabirwa Surgical Center was also carried out. This is a continuous activity done by Busoga Health Forum members as a way of providing access to specialists. The ENT pro bono activities by BHF are carried out every last Friday and Saturday of the month at Kyabirwa and Mafubira respectively.
The webinar held by BHF focused on 'Improving Perceptions and Care for Perceptions with Hearing Impairment and Deafness' by keynote speakers Dr. Fred Bisso Senior Consultant Mulago National Hospital, Mr. Eddie Mukaya Executive Director, Hear His Voice Uganda, a rehabilitation school for children with hearing impairment and Dr. Chris Ndoleriire, a lecturer at Makerere University College of Health Sciences.
The webinar presentation aimed to influence attitudes towards the care of persons with Hearing Impairment persons.
In Uganda, today, about two million people live with disabling Hearing impairment. It is quite alarming for Uganda to have only five primary schools for children with hearing impairment; two in Kampala and three outside the capital city and one secondary school for children.
In 2006, WHO declared hearing impairment as one of the new and emerging public health challenges. In 2017, the World Health Assembly (WHA) resolved to market hearing care as a global priority. According to a WHO report, over 5% of the World's population requires rehabilitation to address their hearing loss disability, and about a 2.5billion people across the World will experience mild-to-profound hearing loss by 2050, WHO report says.
Hearing care involves sharing the latest facts on Hearing Impairment, highlighting wrong perceptions that need to be changed, showcasing positive trends for inspiration on emulation, and highlighting technologies and tools available for helping people with hearing impairment.
It is important to note that hearing impairment is not only experienced among children but in adults as well.
Dr. Bisso pointed out the impact of severe hearing impairment in adults which involves suicidal ideation, reduced opportunities such as; education, employment, leadership, and relationship. The other impacts are social isolation, general discrimination, depression, and loss of confidence.
The wrong perception among the health workers and the general public requires correction. According to Dr. Bisso, some of these wrong perceptions are: "All ears feeling blocked should be syringed, all aching ears need ear drops, a child who has delayed to start talking (5-6) has a tongue tie, the white liquid that oozes out of children's ears is milk from their mothers and children who don't hear cannot attend school."
Mr. Eddie Mukaya noted that there is a need to demystify the ideologies about hearing impairments that have left many children in our communities discriminated against.
The innocent but dangerous actions of health workers are a disservice to the patients. These involve inadequate history taking, liberal use of ototoxic drugs, misdiagnosis of E.N.T conditions, injudicious use of ear drops, too much faith in ear drops, and delayed referral and consultations.
The health workers were challenged to follow the age-old pathway to a clinical diagnosis-history, use multiple methods to obtain information about the condition, pay attention to the peculiar situation of the patient, degree of functional handicap, and psychosocial environment, among others.
"It is also paramount for the health workers to show compassion, establish rapport early, be patient and be confidential," Dr. Ndoleriire emphasized.
Mr. Eddie Mukaya pointed out that parents' engagement in a child's activities and taking note whenever a child mentions any pain in the ear is of great significance.
"Making informed decisions is an important role for parents in the healing journey of their children, knowing the impact of hearing loss on their children and understanding how to deal with them," said Dr. Adoch while featuring a radio talk show.