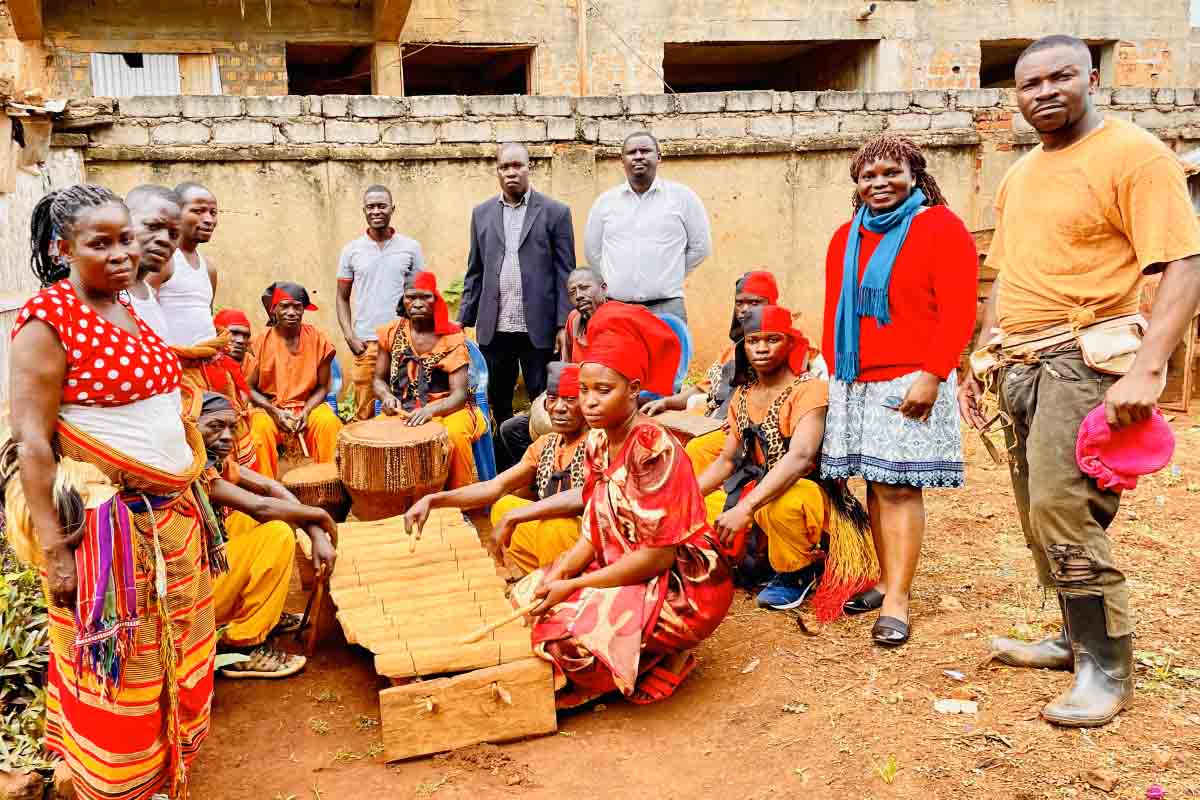 Global Health Corps: Serving, Learning at Busoga Health Forum
---
By Claire Zerida Balungi
Wooh! It's been a year! As I conclude my 13-month Global Health Corps (GHC) Fellowship at Busoga Health Forum (BHF), I reflect on an extraordinary voyage that unfolded on Plot 6, Gabula Road Jinja, Uganda.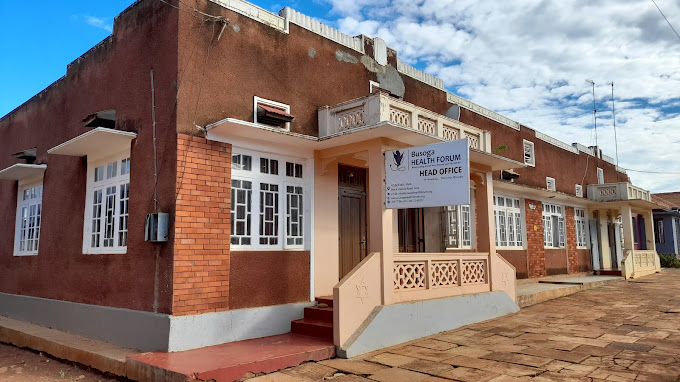 My mission was to amplify BHF's voice and bring its transformative work of improving health in Busoga to light. As Communications Officer, I embarked on this meaningful expedition alongside my dedicated team of two on the Communications desk, Elizabeth Namara and Desmond Benjamin Tatumwa. Our quest was to share the untold stories of impact and mobilize support from the enormous membership of our Forum (over 1500 members) which comprises medical professionals and well-wishing non-medical practitioners, donors, government entities, NGOs that shared our vision, and the very beneficiaries whose lives were touched by BHF's relentless efforts, the communities in the 11 districts of Busoga subregion.
The Communications Strategy
To breathe life into the organization's vision, "A Healthy Thriving Busoga", we first fortified and refined the existing communications and outreach strategy. It was essential to raise awareness about BHF's work and the profound changes it brought about in the Busoga subregion. Through captivating storytelling, we painted vivid portraits of BHF's current projects, cutting-edge research, and invaluable best practices. We strategically positioned ourselves at the reception area of the office and openly welcomed every visitor, shared a special photo moment at our BHF banner and asked for another turn, they kept coming. We believed that every foot that roamed Gabula street and somehow found its way into our home was willing to support our efforts, so we made a firm resolve to include them in the budding story of our 2-year-old Busoga Health Forum. Our revamped website became a digital canvas where the beauty of BHF's mission found expression, attracting the eyes and hearts of the global world to our cause.
Social media
Social media was our modern-day town square where the voice of BHF reverberated. We crafted compelling content for the popular BHF WhatsApp Groups, Facebook, Twitter and WordPress that sparked conversations and inspired action. We wanted to connect not only with global supporters but also with the local community whose spirit fueled the organization's journey. The power of social media knew no bounds, as it became a bridge that united hearts across Busoga and cultures. Our trendy Continuous Medical Education (CME) series has since become unsafe from the grasp of any medic within our circles, they come flooding in every Friday early night for the health lessons and connection geared towards the revitalization of Busoga's ailing health condition. Did I mention we wrote monthly columns on the state of Busoga's health in the regional newspaper, Busoga Today? Ah! If you've followed our efforts on or offline, you must have come head-on with adverts about our monthly Ear Nose and Throat (E.N.T) pro bono clinics managed by E.N.T Specialist and Consultant, Dr Fred Bisso, a kind heart, a godsend, straight from heaven to Busoga! He stages a medical "show" at Mafubira Health Centre II every last Friday of the month, and offers free consultation services to the locals from the nearby districts, our records even show patients from Mbale, Mukono and Kampala. They hear about these pro bono clinics from our partner radio, Busoga One FM, Big up! This radio has given us a platform, we couldn't have communicated better!
The BHF Newsletter
Our monthly newsletter became an intimate conversation with BHF's stakeholders, a reflection of the heart and soul of the organization. With each issue, we unveiled the untold stories of resilience, triumph, and hope that resonated within the hearts of those whose lives were changed. Through storytelling, we brought life to raw data and turned statistics into lives transformed.
Graphics and visuals
The world has evolved into a visual era, that we know. We harnessed the power of graphic design software. With Adobe Illustrator, Photoshop, and InDesign, we transformed concepts into visual masterpieces, inviting our audience to experience our special cause and impact visually. The art of multimedia production and social media management helped us captivate the imaginations of supporters and ignite sparks of compassion within their souls. I went down on my knee sometimes, as if to propose our agenda of improving health and pivoting towards the Global Health Corps agenda of advocating for health equity to the world, but it was to manipulate my camera into dreaming up photographs of impact for BHF's health storytelling cause.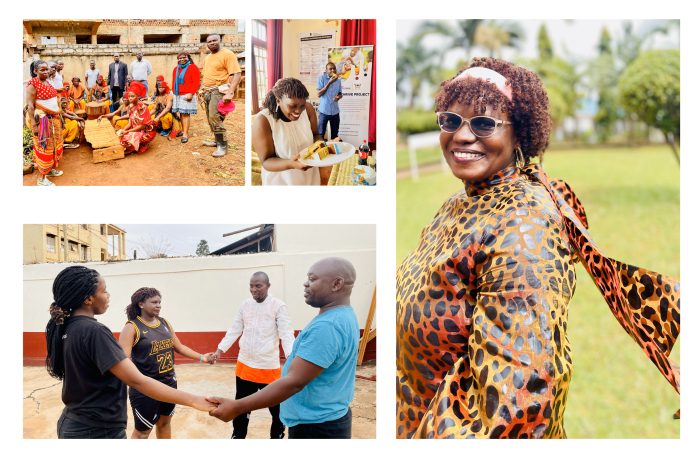 Event management
We did navigate diverse stages and platforms to shed light on BHF's cause. We orchestrated events that celebrated achievements and united like-minded individuals dedicated to health and development, coordinating logistics, contracting with vendors, and liaising with speakers at these events. This collaboration harmonious events that left lasting imprints on the minds of all who attended. I fondly remember the colorful December 2022 Anniversary Dinner celebrations of BHF@2. It wasn't just pomp and circumstance, we had a goal to mobilize resources for our Sickle Cell Awareness campaign. It was a worthy piece of work that inspired hope and the promise of ending Sickle Cell Disease in Busoga together with our major partners. This cause attracted the attention of our cultural heaven, the Busoga Kingdom and the event was in fact graced by Obwa Kyabazinga Bwa Busoga's (OBBs) Second Deputy Prime Minister, Ahmed Noor Mohammed and Minister of Health, Dr Andrew Balyeku.
In the face of challenges, we discovered the true essence of crisis management and media relations. Our nimble approach and proactive measures ensured that BHF's voice remained steadfast even during challenging times. Crisis became an opportunity to showcase resilience, and we emerged stronger, braver, and more united.
Lessons
Throughout this journey, I learned profound lessons that etched well onto the cracks of my professional skin. I witnessed the unwavering dedication of the BHF team, whose commitment to the community knew no bounds. In the heart of adversity, I saw the strength and courage of the beneficiaries whose lives were forever transformed. Their stories fueled my passion and emboldened me to keep pushing the boundaries of what communication could achieve. I had fulfilling and learning field work visits documenting the meetings of the community groups that learnt so dearly from the Family Planning information we volunteered to them, courtesy of the John Templeton funded Urban Thrive Project (UTP) where BHF partners with Makerere School of Public Health (MakSPH).
Above all, I realized the true power of storytelling in bringing about positive change. It was not just the eloquence of words but the sincerity and authenticity of the picture of the true health status in the communities, in Jinja Regional Referral Hospital, on the streets, that struck chords within the hearts of our audience. The human experience, woven into each narrative, stirred emotions and ignited the spirit of compassion that transcended borders.
As my GHC journey with BHF concludes, I leave with a heart brimming with gratitude and inspiration. I stand in admiration of the countless lives touched by the organization's work, and I am forever indebted to the team whose unwavering support was my anchor in this transformative expedition.
Recommendations
To Busoga Health Forum, I offer these recommendations to further amplify the value of the partnership with Global Health Corps;
Continued Storytelling: Embrace the power of storytelling as a central pillar of communication. Invest in capturing authentic stories of health in Busoga to catalyze positive change and resilience to build deeper connections with stakeholders.
Empower Local Voices: Amplify the voices of the community members in addition to that of the health professionals, to shape the narrative of BHF's impact. Engage more in dialogue with the communities too and learn from their experiences, and let their voices be heard.
Strengthen Partnerships: Foster strategic partnerships with local media outlets, NGOs which share in BHF's agenda, and government bodies to expand BHF's reach and influence. Collaborative efforts can create a ripple effecta and foster a collective commitment to health and development in Busoga especially through advocacy with government bodies.
Capacity Building: Continue investing in the professional growth of the communications team. Invest in especially the necessary hardware resources to further improve storytelling and documentation for the organization. Training in the latest tools and techniques will ensure BHF remains at the forefront of effective communication.
Impact Measurement: Enhance the documentation and measurement of BHF's impact. By often quantifying the organization's achievements, BHF can substantiate its success and attract further support.
Innovation in Crisis Communication: Evolve crisis communication strategies to navigate challenges swiftly and decisively. Transparent and proactive communication during tough times can build trust and foster solidarity.
As I bid farewell to Jinja and the incredible Busoga Health Forum, I carry with me unforgettable and worthy lessons of this transformative journey of my Global Health Corps Fellowship. It is my sincere hope that the path I walked with BHF will continue to illuminate the way for generations to come. Together, we can bring health, hope, and happiness to every corner of the world. Forearmed!