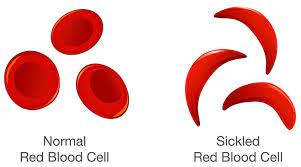 Pre-marriage testing needed to end Sickle Cell
---
By Elizabeth Namara
Sickle cell is a group of disorders that affect the hemoglobin, the molecule in red blood cells that delivers oxygen to cells throughout the body.
People with this disease have atypical hemoglobin molecules that distort red blood cells into a sickle or a crescent shape.
The signs and symptoms of sickle cell disease often begin in early childhood. They include a low number of red blood cells, repeated infections, and periodic episodes of pain.
However, the severity of symptoms ranges from person to person. Some people can be frequently hospitalized due to serious complications whereas others may experience only mild symptoms
According to World Health Organization statics across the globe, there are about 20- 25million people born with sickle cell. Of these, the Africa region accounts for about 12-15 million people with sickle cell.
In a recent Busoga Health Forum Webinar, Mr. Moses Ochieng, a Sickle Cell Patient Advocate, and Change Agent revealed that the Busoga sub-region is one of the most affected areas in the country. It accounts for 16.5 percent of the Sicklers in Uganda.
It is estimated that 5,000 children with Sickle Cell Disease are born every year in the region. And, this comes with a high burden for the parents and families with the sick persons. "A family with a sick person is a sick family too." Mr. Ochieng emphasized.
He called upon the members not to focus on the myths that people in our communities believe but rather demystify the misconceptions of Sickle Cell Disease. Some of the myths include; People with the disease are immune to malaria, people exaggerate SCD pain to have access to drugs, and the misconception of there being no cure.
He said: "people who carry the trait are more resistant to malaria but persons with the disease are not at all immune, there is a need to understand that patients are unique; some may have serious issues whereas others are likely to have mild symptoms."
"There is a cure, but our only limitation is Financial," Ochieng noted.
The presenter on the webinar acknowledged and applauded the Ministry of Health Interventions such as setting up Centers of Excellence across the country. These centers act as satellite clinics. The Ministry set up 35 Centers of Excellence, and 3 of these centers are in Busoga. The Ministry is also supporting awareness and advocacy campaigns.
However, he cautioned the participants not to conceive before knowing the genotype of the partner they are conceiving with.
He also pointed out that in case one has Sickle Cell Disease, one should go for antenatal care more than a normal person would.
Mr. Moses Ochieng challenged health workers to pay keen interest to the patients since every patient is unique.
Dr. Peter Lwabi a heart specialist appreciated Moses for the presentation from the point of view of a patient.
"The more you know about the disease, the more likely you are to get the best care. Linking patients to care is very important because small problems can be detected and addressed early." He added.
Dr. Lwabi further called upon the participants to always go for awareness and pre-marriage screening as the only way to end the Sickle Cell Disease cycle.
There is also a need to check regularly so that the health care provider can advise on which treatment modalities can be administered.
In Uganda, approximately 20,000 children are born with Sickle Cell Disease every year according to the Ministry of Health Statistics.