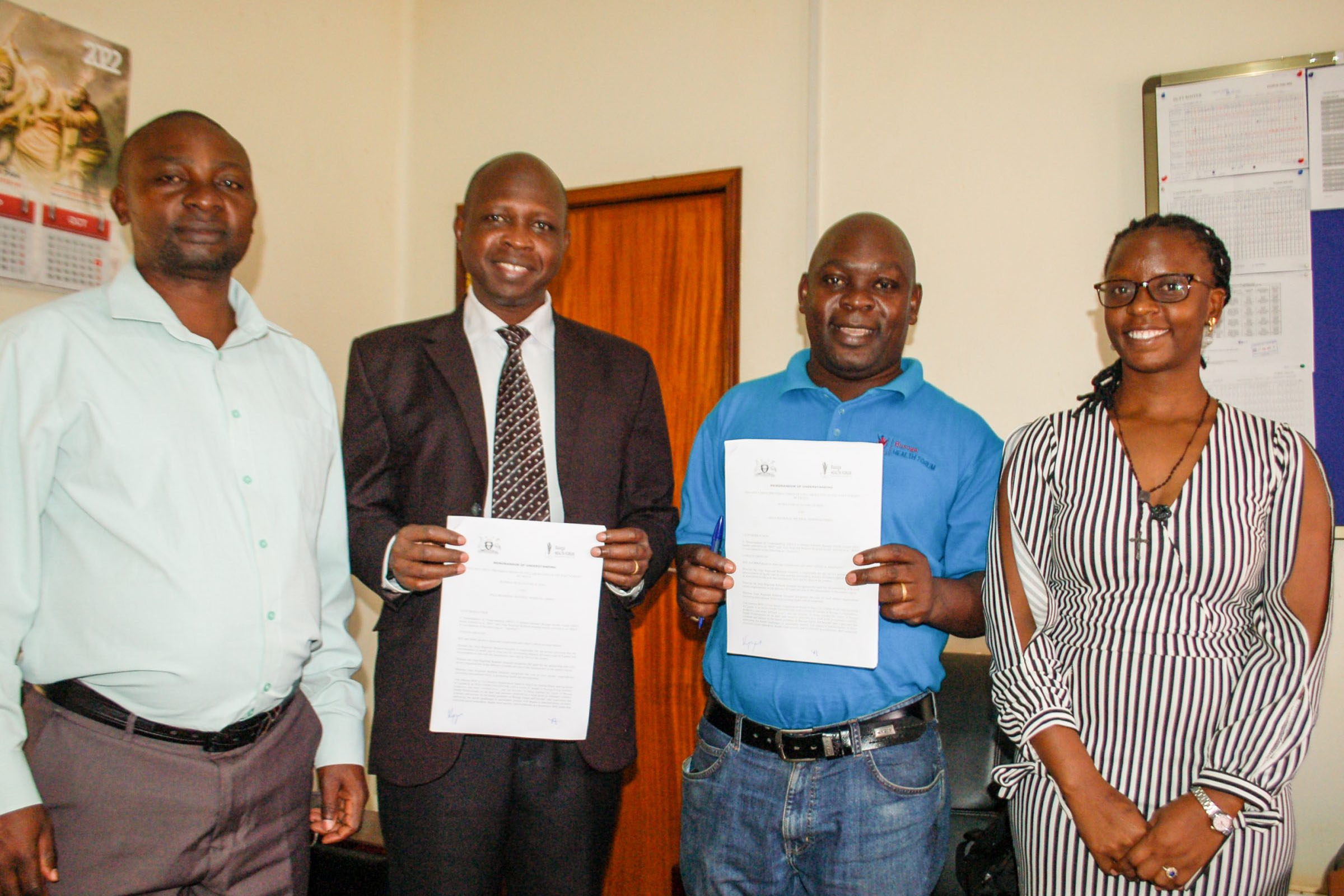 Jinja Regional Referral Hospital, Busoga Health Forum commit to partnership
---
By Claire Zerida Balungi
Last week climaxed on a grand note as Busoga Health Forum (BHF) was officially professionally bound to Jinja Regional Referral Hospital through a Memorandum of Understanding (MoU) that was signed by executive representatives of the two institutions. 
On the evening of September 9, 2022, BHF's CEO, Mr Moses Kyangwa welcomed the Hospital's new Director, Dr Alfred Yayi to Busoga sub-region who has so far served for roughly five weeks. Humbled by the warm welcome, Dr Yayi admitted, "One of the organized groups I've interacted with is Busoga Health Forum." He had interacted with members of the Forum whose visions were well aligned with reason. 
Placing pen on paper, the Hospital and Forum made a promise to strengthen their mutual mandate of improving health care service delivery in Busoga sub-region. 
Besides bringing together forces of Busoga health professionals, conducting joint strategic planning, proposal writing and project implementation, other objectives of the MoU include; creating a critical mass of stakeholders in championing Maternal Child Health (MCH) and Sexual Reproductive Health (SRH) programs, generating evidence through research, strengthening leadership and management, targeting health sector leaders with quality data and information as well as revitalizing professional associations and networks in the region. 
Prior to this occasion, BHF had implemented activities in stewardship, research, support supervision for lower facilities and education for instance, through its now-famous Continuous Medical Education (CME) Friday webinars from which health professionals earn credits.. The Hospital officially agreed to integrating the Forum's activities in its agenda.
What the partnership means for Busoga Health Forum
Research being one of the Forum's core activities, some interventions require clearance from the Hospital, the partnership is essential for research ethical approval.

In its objective of convening medical professionals, the Regional Hospital shall inform the Forum of existent technical boards outside its scope, laying the ground for potential partnerships

The Hospital has a number of areas that need improvement. As government may take a while to address these, partner engagement by the Forum and Hospital together could bring on board partners to help fix one thing after the other. Cumulatively, BHF would be contributing to improvement of the region's service delivery

The Hospital is a rich resource of technical staff; senior consultants, consultants and other key health workers. When the Forum is in need of technical persons, the Hospital can always be a good fall back position for it. 

The Forum's partners can now work with the Regional Hospital to improve service delivery in Busoga sub-region.
Since the Forum and the Regional Hospital are serving similar interests, Busoga sub-region being the main focus, "The MOU is important for each party to know exactly what they are responsible for. This is good and it only strengthens our partnership with the Forum. We are glad to be working closely with you, and if in the areas of partner coordination, the Forum is on board, through this kind of arrangement we can be able to mobilize some resources," concluded the Hospital Director.