Former Vice President Dr. Speciosa Advocates for Professional Growth and Support to Busoga Health Workers.
---
By: Tatumwa Desmond Benjamin
On October 15, 2023, members of the Busoga Health Forum congregated at the residence of the esteemed former Vice President of Uganda, Dr. Speciosa Wandira Kazibwe, in Dudu Mukono district. The purpose of this gathering was to conduct the Pre-Annual General Meeting of the Busoga Health Forum (BHF), aimed at promoting unity among members and acknowledging the organization's accomplishments.

The event kicked off in a lively manner as Dr. Speciosa, affectionately known as 'Mama,' joined the meeting bearing a basket of Bambara groundnuts, locally known as empande. Her infectious passion for music became evident as she sang a cherished childhood song, "Mama yalima, mama yalima, Akalimilo, Mama Yalima, Akalimilo akempade akalimilo…." creating a unique experience for the BHF members.
Professor.Peter Waiswa, the Chair, BHF Board of Directors, emphasized the need for a medical school in the region associated with Busoga University. He highlighted that while disease presents challenges, scientists thrive on problem-solving. Establishing a medical school could transform these challenges into opportunities, eventually leading to economic growth.
He also highlighted Busoga Health Forum as a hub where numerous scientists convene for presentations, attributing this to the organization's commitment to the weekly Friday webinars.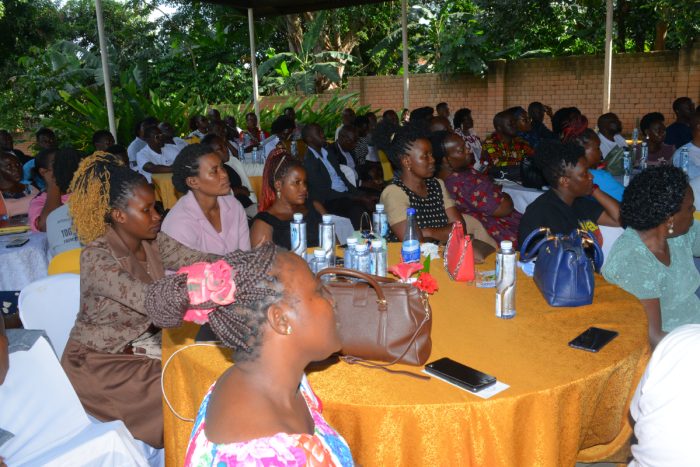 A picture of members during the meeting in Dudu
Additionally, the renowned Maternal and Child Health Professor, reechoed BHF's engagement with Karolinska Institute, a reputable university known for its excellence and awarding of the Noble prize in Medicine. With Karolinska Institutet collaborating with the Forum under the Child Thrive Project, there has been enhancement in pediatric health at Jinja Regional Referral Hospital. This exchange program between the two institutions has also facilitated opportunities for Busoga health workers to travel to Sweden for learning and knowledge exchange.
While sharing her life experiences, Dr. Speciosa revealed her journey from serving in different Ministries to becoming a Vice President of Uganda in 1994. She challenged members to support one another beyond professional boundaries, advocating for the importance of facing and overcoming personal weaknesses.
She noted, "nothing can stop you from surmounting your weakness, it's a matter of taking a decision to face them."
Her advice extended to personal relationships, where she shared the importance of enjoying life and finding time for personal passions, such as singing and dancing. Dr. Speciosa emphasized that life offers diverse gifts, urging individualst to not  limit themselves solely to their professional roles.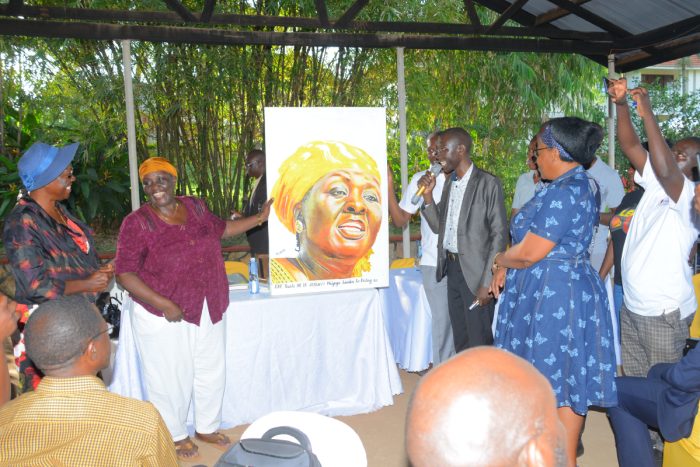 Dr. Kabweru Wilberforce Musoga (Right) Handing over a gift of a potrait to Dr. Speciosa (Left)
"if your aim is wealth, avoid a career in healthcare. You can't become rich from being a doctor, or a nurse, this is a calling. Acknowledging the challenges within healthcare professions, Dr. Speciosa drew parallels between the hardships faced by health workers and politicians. She encouraged authenticity, advising professionals to prioritize self-care and remain true to themselves, "healthcare and politics face similar challenges, people often ask for help in difficult situations, causing stress. Requests for jobs, advice or support may go beyond what can be given. The advice is to stay true to yourself and not let these pressures affect family relationships, especially with children. It's important to handle these demands without losing your personal values, whether in healthcare or politics."
Dr. Fredrick Nakwagala, a BHF Board Member and Senior Consultant Physician, and Dr. Kabweru Wilberforce Musoga, the Head of Thoracic surgery, both from Mulago National Referral Hospital re echoed the importance of unity and shared knowledge. They also expressed gratitude for the gathering and stressed its significance to achieving the Organization Vision of 'A Health Thriving Busoga.'
Mr. Moses Kyangwa, the Chief Executibe Officer, Busoga Health Forum, highlighted the role of BHF in closing the gap of the limited access to professional healthcare. Mr. kyangwa noted that quite often patients resort to shrines for emergency care which results into exploitation by the traditional healers.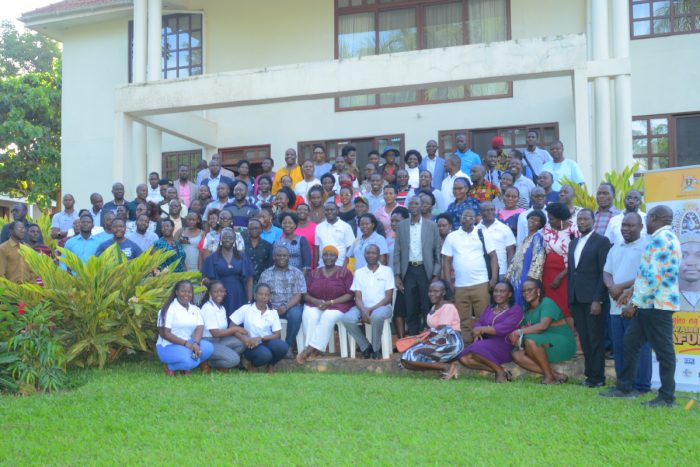 A group picture of participants
The meeting was a sign of unity and support brought about by Busoga Health Forum, advocating for professional growth and emphasizing the value of coming together for the improvement of the Busoga' sub-regions' healthcare. More importantly, the members were reminded of the role the Forum plays in rallying Busoga professionals to use evidence to engage community, government and partner action for better health of children, youth, women and men in Busoga.