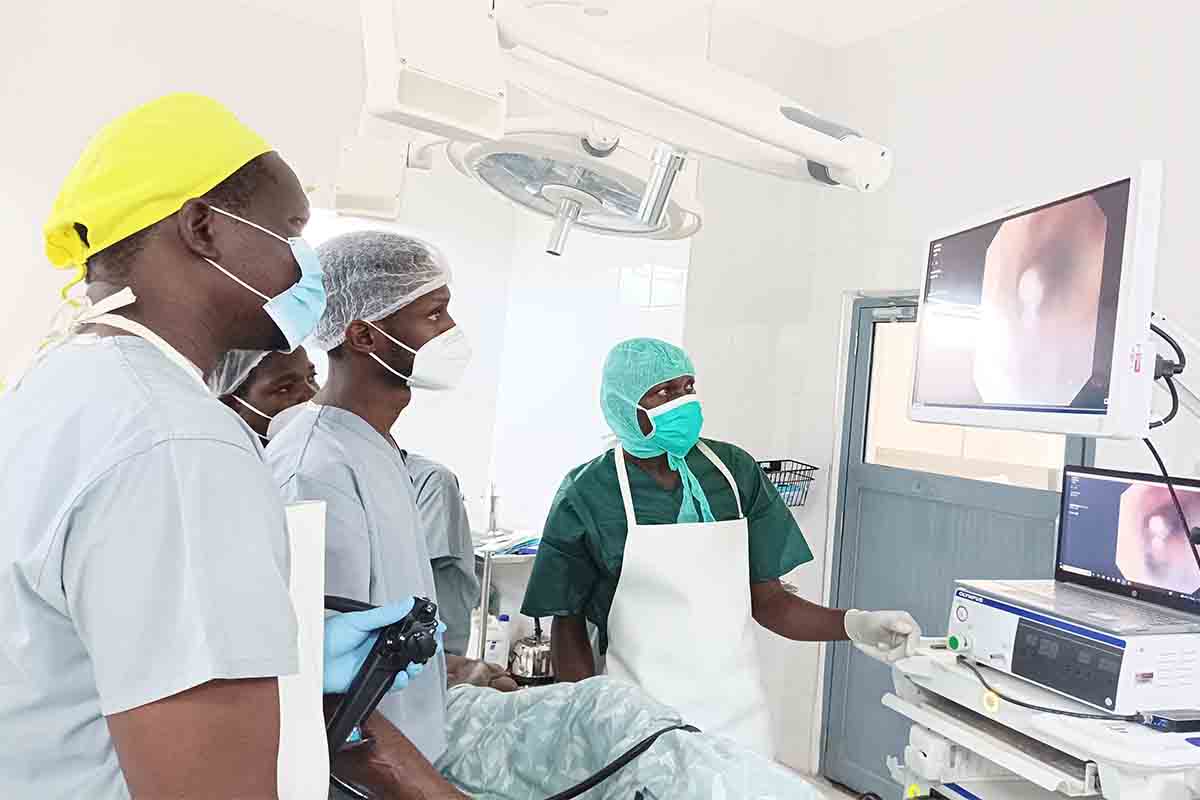 Busoga Medics call for action in the fight against cancer of the esophagus.
---
By Elizabeth Namara
According to the 2020 International Agency for Research on Cancer (IARC) report, the global burden of esophageal cancer was estimated to increase by more than 50% from 2020 to 2040, to almost 1 million new cases per year.
Currently, esophageal cancer ranks number six among the leading causes of cancer deaths.
In Uganda, Cancer of the esophagus ranked number three among common cancer-related deaths. Among men in Uganda, the malignance ranks third whereas in Kenya, it ranks second higher than in Uganda.
Esophageal cancer is cancer that occurs in the esophagus. It can occur anywhere along the esophagus. More men than women get esophageal cancer. It is the sixth most common cause of cancer deaths worldwide. However, the incidence rates vary within different geographic locations.
Signs and symptoms of esophageal cancer include; difficulty in swallowing (dysphagia) and other non-specific symptoms such as; heartburn, dyspepsia, cough, and weight loss.
Important to note is that early esophageal cancer is asymptomatic.
According to Dr. Damoi Joseph Okello, a Surgeon at Kyabirwa Surgical Center, the risk factors include; genetics, geographical/ environmental factors, alcohol and smoking, indoor wood combustion, thermal injury from hot food and beverages, and polycyclic hydrocarbons.
The prevention of esophageal cancel resolves around taking steps to reduce the risks; quitting smoking, drinking alcohol in moderation- preferably none, eating more fruits and vegetables, and maintaining a healthy weight.
According to the different studies done in Uganda, specifically, at Lacor Hospital in Northern Uganda and Mulago National Referral Hospital. Cancer esophagus is a burden in the country. The former focused on the histopathological subtypes in Northern Uganda, whereby out of 1871 patients, 7.5 percent had the disease. The latter: a study done at Mulago Endoscopy Unity in 2021, 11 percent of the patients had gastroesophageal cancer. The study focused on the high rates of gastroesophageal cancer in patients with dyspepsia undergoing upper gastrointestinal endoscopy in Uganda. 356 patient endoscopy reports spanning from January 2018 to July 2020 were reviewed with a focus on those with a referral indication of dyspepsia.
At Kyabirwa Surgical Center, located in Jinja, out of 520 patients who had an endoscopy in 2022, Cancer esophagus contributed to 21.4 percent of the overall patients. Dr. Damoi confirmed the Cancer esophagus as the leading pathology among the patients.
While discussing the topic at the Busoga Health Forum weekly Continuous Medical Education (CME) session, Dr. Damoi noted that the biggest challenge is prevention.
"The question is: What can be done to prevent cancer of the esophagus? This is not an easy task. Many of the factors associated with it such as genetics cannot be prevented."
Some of the interventions the rural-based surgical center has carried out include early diagnosis and community surveillance, that is, widespread surveillance endoscopies.
More challenging is the fact that even after community surveillance, there is nothing much that can be done. The treatment options depend on whether the disease is an early disease, locoregional, and or metastatic.
However high the burden is, community population screening intervention should be emphasized. Unfortunately, the challenge is that no treatment measure will be carried out which will in turn become a stressing factor for the patients.
The World Health Organization (WHO) recommends that only screening measures should go hand in hand with interventions.
"While we live in a high-burden area, we have very limited treatment modalities. Is there room for broadening treatment options?" Dr. Damoi asked.
It will be unfortunate to identify lesions and just watch them grow.