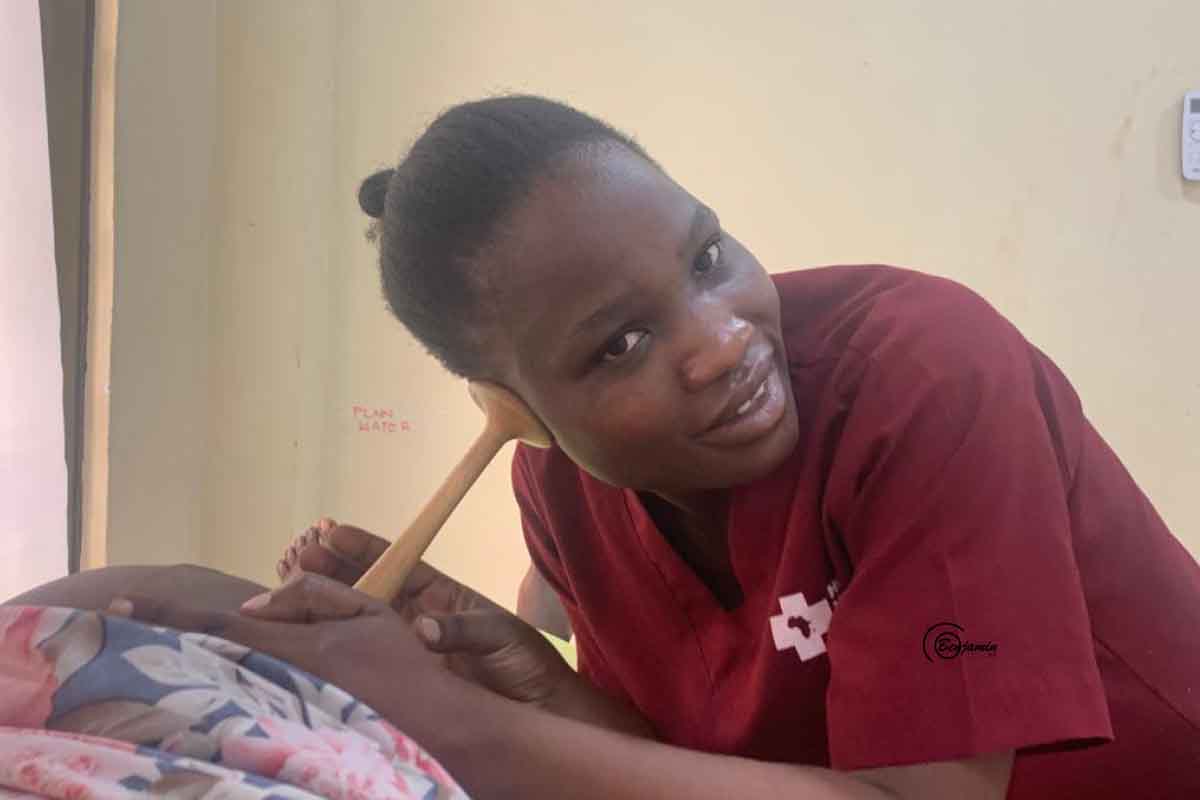 Traditional Birth Attendants Contributing To The Maternal Mortality In Busoga
---
By Benjamin Desmond Tatumwa
Miss Mutesi, a 35-year-old resident of Kiwanyi village says she nearly died on September 15, 2022, while giving birth to twins.
On September 14, 2022, Mutesi who was pregnant started having labor pains at night, and the next step was to find a place where she could deliver from. She says at this time, she was staying alone in the house and had no phone to use to call a Boda Boda cyclist.
The only option she had was to cross the road to the neighbor, a renowned Traditional Birth Attendant (TBA), locally known as 'Mulelwa' in the area.
Having missed antenatal care, the pregnant Mutesi did not expect to have twins when she went to the Mulelwa's place to give birth. "While at the traditional birth attendant's place, I gave birth to a baby boy at around 3 am. The traditional birth attendant had no idea I was carrying twins in my womb, and neither did I. I never had a scan," she narrated.
It is common for pregnant mothers to ignore or miss antenatal visits during pregnancy despite their importance in ensuring the safety and well-being of the mother and the child. Like most mothers, Mutesi never took her antenatal visits very seriously.
After giving birth to the first boy, it dawned on them that there was another baby on the way. The baby failed to come out. She never had contractions. She failed to push the second baby.
Having had the first baby around 3 am, in a very bad shape, the mother with the help of the neighbor managed to get away from the Traditional Birth Attendant who insisted they stay. The Samaritan neighbor managed to take the over bleeding mother to a rural-based facility, Hope and Healing Center, after 2 and a half hours.
Mutesi says, "the neighbor gathered our belongings, got a Boda Boda and we were brought to Hope and Healing Center."
According to Dr. Ben Kigwe and Dr. Lubega John Baptist, medical officers at the health facility: "the condition in which the patient came in was quite alarming."
"She had lost a lot of blood, lost the second baby, and we had to do a blood transfusion; at least 6 units of blood were used. She had to spend three weeks before she could be dismissed," Dr. Kigwe added.
Such kind of circumstances are a common occurrence, especially in rural Uganda. One may ask, why? Well, a number of factors contribute to the unfortunate events where the life of a child, a mother or both may get lost. They include; delay to seek appropriate medical help for an obstetric emergency, delay to reach an appropriate obstetric facility, and delay to receive adequate care when a facility is reached.
Hope and Healing Center being a modern clinic with enough human resource; surgeons, doctors, anesthetists, midwives and nurses, and being the nearest facility in the neighborhood gave Mutetsi a second chance at life. And, this is a story of so many people in Kiwanyi and the neighboring areas. Despite the clinic's close proximity, the costs are also affordable compared to other clinics of such caliber.
Janet and Juliana, midwives at the facility believe community sensitization on the three delays would make a big change in the area.
After her three weeks in the hospital, Mutesi and her surviving child left the clinic all healthy, with faces radiating genuine joy and thankful to the HHC community for their kindness and generosity; despite the huge health care bills, she was attended to very well. The money she had could not even cater for a quarter of the costs incurred.
A single mother, abandoned by her husband, with no savings whatsoever, Mutesi more than anything else regrets never taking her antenatal visits seriously, and not following the Ministry of Health guidelines of not depending on inexperienced birth attendants in case of emergencies.
She calls upon all women to go for antenatal visits, deliver from a recognized health facility, and to at least have a contact of a Boda Boda rider in case of an emergency. Mutesi also challenges men to be supportive and never to abandon their wives during labor.
She promises to be an ambassador of safe motherhood in her area of residence
In Uganda, the leading causes of maternal death include hemorrhage, high blood pressure, unsafe abortions, and infections.