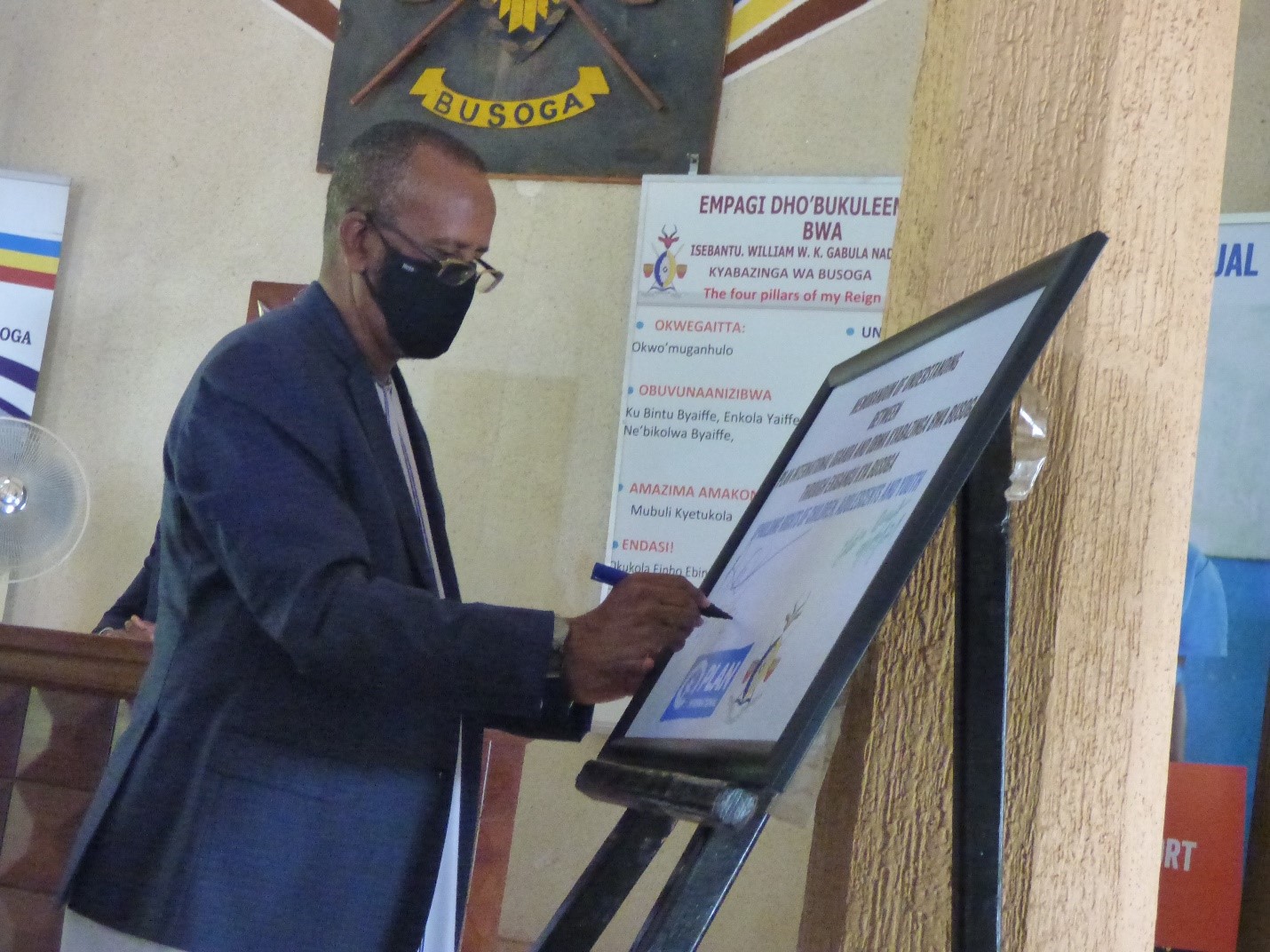 Plan International joins Busoga Kingdom to promote children's rights
---
By Elizabeth Namara
Plan International Uganda in partnership with the Obwakyabazinga Bwa Busoga through Ekigangu Kya Busoga on December 9, 2021, signed a memorandum of understanding to address the violation of the right of children, adolescents, and the youth.
The event that was attended by several Non-Governmental Organizations and the stakeholders of the Obwakyabazinga took place at the Kyabazinga headquarters in Bugembe.
Plan International enables children and young people to prepare for-and- respond to crises and adversity.  According to Iveta Ouvry, Country Director, Plan international: "the organization has been building powerful partnerships for children for over 80 years, and is now active in more than 70 countries."
She also referred to this partnership as an opportunity to interact with the Busoga Kingdom especially at a time when the world is facing a global pandemic.
In 2018, Plan international joined kingdoms and cultural institutions to end child and forced marriages.
"This is an opportunity to interact with Busoga Kingdom especially at a time when the world is facing a global pandemic." She added.
According to a UNFPA report, about 30million extra child marriages are likely to result by the next two years.
There has been an increase in the cases of violence and other forms of abuse, escalating into the increased number of girls getting pregnant and getting married before 18 years.
The participants in the event were called upon to support all children to go back to school on reopening.
"Covid has also exposed the gap on parenting. There is a need to address the roles of parents and caregivers." Iveta Ouvry noted.
Ms. Iveta emphasized the protection of girls and educating sons as a way of ending violence by working against the perpetrators of violence.
The Kyabazinga of Busoga commended Plan for the good work in Uganda specifically in Buyende and Kamuli districts.
"As a kingdom, we directed the Ministry of Gender to formulate a children's protection policy, which is ready and we started Ekigangu to promote cultural values and norms. As a cultural institution, we support, we treasure and cherish our norms and values." The Kyabazinga noted.
The children were reminded by the Kyabazinga to remember that education is key. This is because education is simply the role of society to promote positive attitudes towards the education of both girls and boys.
The Kyabazinga further called upon parents to desist from the habit of violence to promote good respectful families.
The Second Deputy Premier Owek. Osman Muhammad thanked the stakeholders for creating initiatives that are helping stop vices that impact the children negatively.
He affirmed that Obwa Kyabazinga is an open door and is more than willing to work with partners.
The memorandum of understanding was signed by Ms. Iveta Ouvry on behalf of Plan International and the Second Deputy Premier Owek. Osman Muhammad on behalf of Busoga Kingdom.