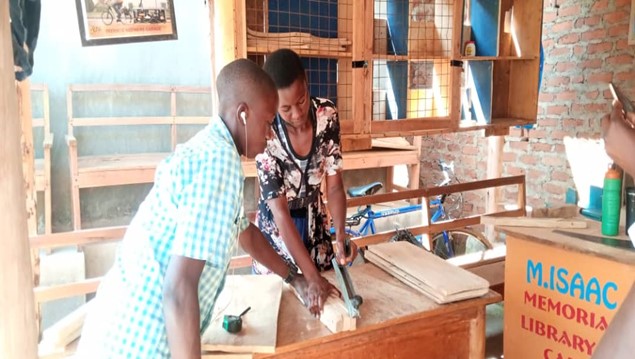 Iganga youth spearhead teenage mothers rehabilitation programme
---
By Tatumwa Desmond Benjamin
The country has been bruised by Covid 19, and among these bruises is the teenage pregnancy one that has made most homes and communities wail at the would have been future potentials brought to a hold.
The youth from far and wide have been called upon to be at the forefront, be it in the army, police, and agriculture. However, they have been left out when it comes to sexual reproductive health and rights.
Teenagers discussing sex or anything related to sex has been taboo in our societies and it still is. A lot is required to have the adolescents and young adults involved.
Adolescents make up a quarter of the Ugandan population at an estimate of 9 million, according to a UNICEF report.
According to the Ministry of Health, 25 percent of Ugandan teenagers become pregnant by the age of 19. And half of these are married before their 18th birthday.
'Where there is a will, there is a way' is a proverb most people know by heart. But for the teenage parents in Iganga it is more than mere words. It is a significance of a crushed spirit, an enduring soul and a promise of hope.
Iganga is blessed to have a group of young men and women who are willing to be at the forefront in the elimination of teenage pregnancy and rehabilitating teenage mothers.
The +256 Youth platform under the leadership of Tatumwa Desmond Benjamin, the Chapter president has established programs for the youths to learn different skills as part of the rehabilitation program especially for teenage mothers.
"It is a place where they gain a number of skills for their empowerment. To be empowered is the best way any teenage mother can be supported. This rehabilitation program also deters the young teenagers from experiencing repeat pregnancies," Mr. Mukalu Mohamed, the Country Director said.
At +256 Youth Platform, teenage mothers and young men are trained in a number of activities. There is assurance of hope and a future, assurance that no matter what, they can be able to fend for themselves and their babies can survive. It is a clear definition of second chances.
Where other adolescent girls and young women are wailing for a better life cut short, the teenage mothers on this platform are rather pessimistic.
Mr. Mukalu says the reason for the comprehensive rehabilitation program is: "to offer important rehabilitation package that range from free hospital space for both boys and girls, to belong and share freely vocational skills for their own personal development."
Most of these youth have experienced stigmatization, they are seen as dissapointments and failures by their parents and guardians, yet others are running away from being given away in marriages at a very young age.
The composition of the teenage mothers' garage is: 60 percent females and 40 percent males. The intention is to train teenage mothers in administration and management of business-based interventions, integrated with management skills.
Currently, the garage is running an active workshop with trainings in crocheting, tailoring, shoe fabrication and renewal, carpentry, construction, painting, compound designing and maintenance.
It is an open recruitment process for every youth who is willing to learn.
+256 Youth Platform has had 18 teenage mothers and seven males graduate successful from the garage. The seven males graduated as boxers.
"We are looking forward to having professional boxers," the Director emphasized.
"Currently, we have five females and seven males for the second cohort program and we are still recruiting more," added.
The program is in the process of registering the garage as a company limited by guarantee to maximize business opportunities.
The garage also lobbies for tools and equipment with intention of making a mobile workshop to hawk the products made by the youth so that they are able to make sales.
+256 is a youth led platform for the youth as they create the change they want to see in their communities.
It is a typical representation of the effect youths can have in their societies, and the very answer to the common problem of exclusion.