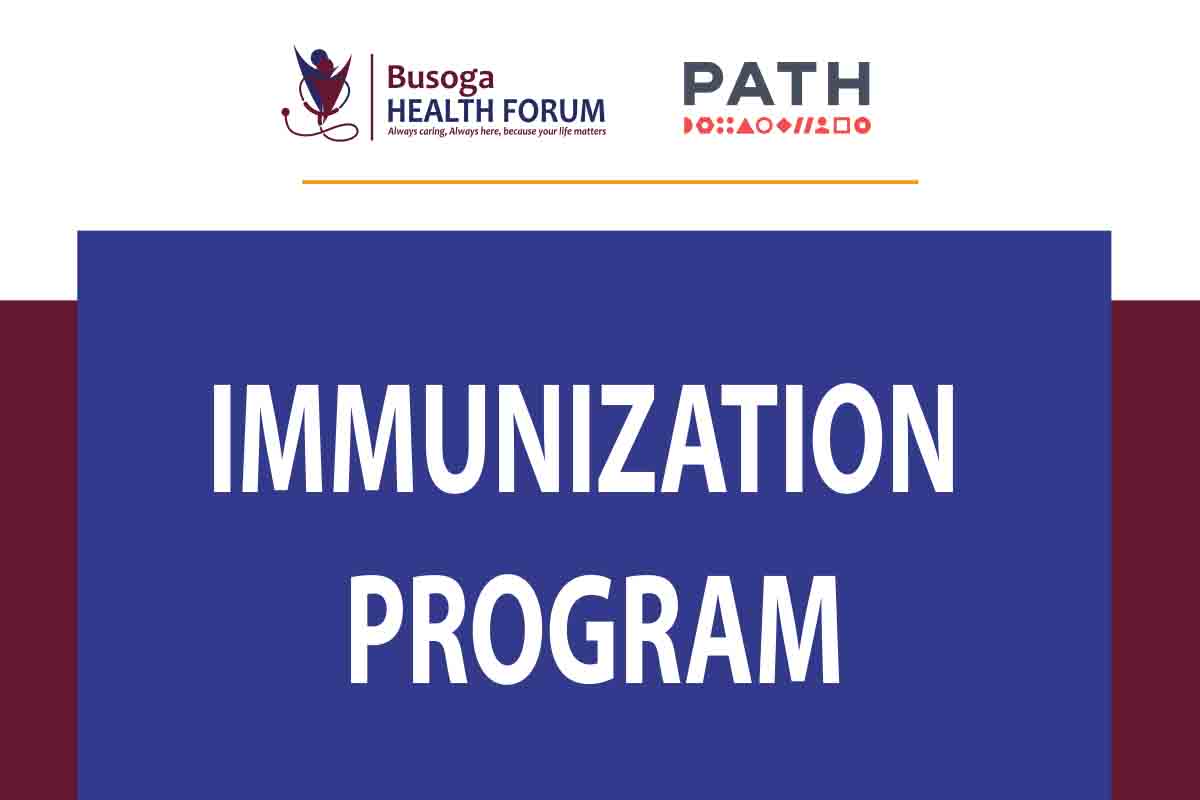 BUSOGA HEALTH FORUM IMMUNIZATION PROGRAM
---
Busoga Health Forum (BHF) in partnership with PATH are working to advance immunization across Busoga Region focusing on Demand Generation and Community Engagement for increased HPV vaccination uptake in the Busoga region.
BHF takes pride in being the health implementation partner of Obwa Kyabazinga bwa Busoga, and as such, we are entrusted with coordinating health initiatives in the region. Leveraging our diverse pool of health professionals and networks, along with the cultural knowledge of the Kingdom, we unite healthcare expertise and social capital to enhance healthcare delivery, health literacy, and community involvement.
Our Commitment and Challenge
Human Papillomavirus (HPV) is a concerning health issue. HPV infection increases the risk of cervical cancer in women. In Uganda, a staggering 13.1 million women aged 15 and older are at risk of cervical cancer. Annually, 6959 women are diagnosed with cervical cancer, leading to 4607 fatalities. This not only causes a loss of life but also has significant economic impacts.
Cervical cancer is the most frequent cancer among Ugandan women and the leading cancer among women aged 15 to 44. About 3.6% of women carry cervical HPV-16/18 infection, contributing to 57.0% of invasive cervical cancers.
Our Involvement
Despite national efforts, HPV vaccination coverage remains suboptimal. Busoga Health Forum is stepping up with a two-fold approach: Technical Assistance and Strengthening School-Community Links.
Technical Assistance: We're collaborating with districts to develop interventions tailored to their context. Our aim is to boost HPV vaccination among 10-year-old girls.
Strengthening School-Community Links: We bridge the gap between schools, communities, and health facilities. This connection ensures that the service reaches those who need it.
Transparent Communication: We're tackling misinformation and building trust in the HPV vaccine through clear communication. With support from His Majesty the Kyabazinga, experts, and local influencers, we're emphasizing vaccine safety and efficacy.
GOAL
To contribute to the achievement of regional HPV vaccination targets for 22,692 10-year-old girls in the Busoga sub-region.
OBJECTIVES
To Improve attitudes and perceptions towards vaccines and immunization in the context of HPV for 10-14-year-old girls by April 2024.

To engage the community to create demand for HPV vaccination uptake in the Busoga sub-region.
Our Methodology
We've laid out a comprehensive plan to achieve our goals:
Identifying partners for community engagement.
Leveraging WhatsApp groups for factual messaging and using WhatsApp champions.
Developing a toolkit for proactive messaging.
Conducting radio talk shows to educate about HPV vaccine.
Collaborating with faith-based groups, influencers, and NGOs.
Organizing a regional conference for vaccination planning.
Supporting districts with task forces and community mobilization.
Conducting house-to-house visits for mobilization.
Facilitating joint support supervision activities.
Implementing robust reporting and performance review systems.
Target Audience
Our efforts will directly benefit 22,692 10-year-old girls. Indirectly, health workers, educators, community leaders, and the entire regional population will benefit from our community engagement and awareness campaigns.